by Dean Prigelmeier, President of Proactive Technologies, Inc.
In part 1 of this series entitled,"Understanding the Resistance to Training: The Challenge," I started the discussion of how an organization that is based on systems has difficulty in, and an entrenched aversion to, conceptualizing the need for a systematic approach to worker development. It is a pervasive problem and it lies at the root of the seemingly insurmountable"skills gap" that has flourished over 30 years and seems unique to U.S. employers. Other developed economies, such as those in Europe, seem to have no trouble developing the workers they need. In fact, many of those trained for technically skilled job classifications in Europe wind up working or training others in developing or developed countries around the world.
---
The High Cost of Employee Turnover

by Stacey Lett, Regional Manager – Eastern U.S. – Proactive Technologies, Inc.
Most companies are dealing with uncomfortably high levels of turnover. When one separates out those employers that facilitated high turnovers to lower labor costs, there are many reasons for this. However, there is no denying the many costs associated with this that exist and the effects that often compound. These costs are often unknown and unmeasured, but all employers should keep an eye on this challenge and explore its full impact on the organization.
---
---
Quality Policies and Process Sheets Do Not Equal Training
by Dean Prigelmeier, President of Proactive Technologies, Inc.
A very common fallacy in business operations is that a description of what should be done listed in a quality policy, such as a quality control policy or a quality assurance plan, that seems to be sufficient for the training component of ISO/TS/AS certification meets, therefore, the company's training requirement in general. Perhaps this false equivalency is wrongly supported by the additional fallacy that the existence of standard work instructions is the equivalent of on-the-job training plans. Too often this is used to defend the belief that this replaces formal task-based training.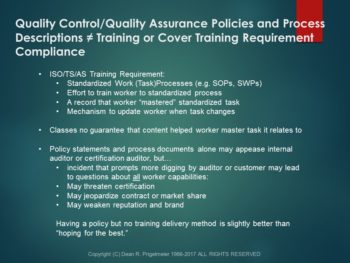 Sometimes this leads to the rationalization that if the company keeps it simple and barely meets what an ISO/TS/AS auditor might accept for their certification purposes, the training requirement is covered. But an auditor at that stage is just looking at what the company is intending to do, not how they carry it out. That is discovered later.
This false assumption is challenged when product or services turn up defective, and customers expect an explanation and a corrective action. This is when a weak, or no, connection can be drawn between the policy that guides quality standards, work processes and who trained and certified the employee to perform the task independently is discovered. This is when the records that exist, if any, do not support the assumption that mastery of the task ever occurred. This is when the customer loses faith in the producer or supplier – not just in the task(s) isolated in the one incident, but possibly performance of all tasks on which they depend.
From a learning perspective, manufacturing environments present hurdle after hurdle to learning and mastering the work to be performed. Unrelenting production schedules, technology advancements and continuous improvement efforts – all offer little room for deliberate task-based training while changing the task out from under the worker while they are trying to learn and master it.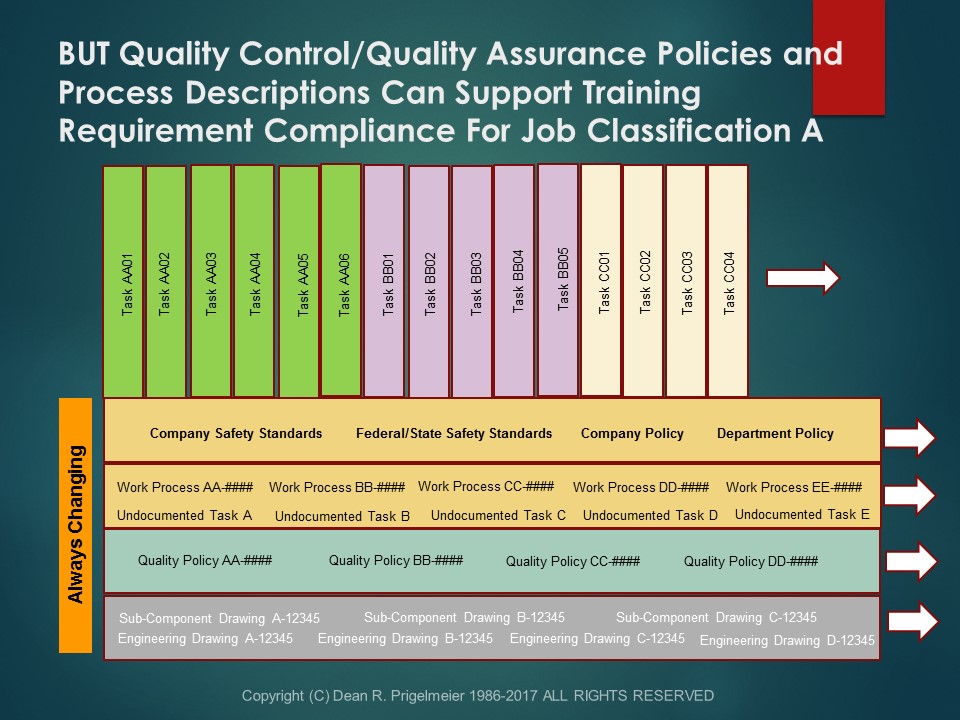 It is in the employer's and employee's interest that the job, and all of its required tasks, are mastered as quickly and completely as possible. But the spoils go to those employees who possess the core skills and necessary abilities to assimilate what they see around them and successfully self-teach themselves. Unfortunately, employers find those people hard to find and are reluctant to pay them accordingly to keep them.
A well-run manufacturing operation is an integration of subsystems that all contribute to the overall objectives and goals of the organization. Many of these are well known and routine to implement. Engineers design products or services, then design the sub-assemblies and sub-components that go into the final product/service. Engineering drawings or flow-charts provide structure and specifications standardize the output at a high level of quality.
Quality Engineers develop policies that frame and define the level of quality for inputs into the production of the product/service and the final output that the customer receives. Manufacturing Engineers, in some cases, write up standard work instructions (i.e. standard operating procedures) for some of the more critical tasks performed along the way. These instructions may vary in style, content, depth and quality by engineer. If these documents are not tested with readability and repeatability studies, these documents may be ticking time bombs, waiting for a misinterpretation or missed steps. Even if these documents are exceptional, a really good work instruction is poor substitute for an on-the-job (task-based) training plan. Not from lack of effort, but these two instruments have very different purposes and audiences, and designed for such. Read More
---
Read the full November, 2017 newsletter, including linked industry articles and online presentation schedules.